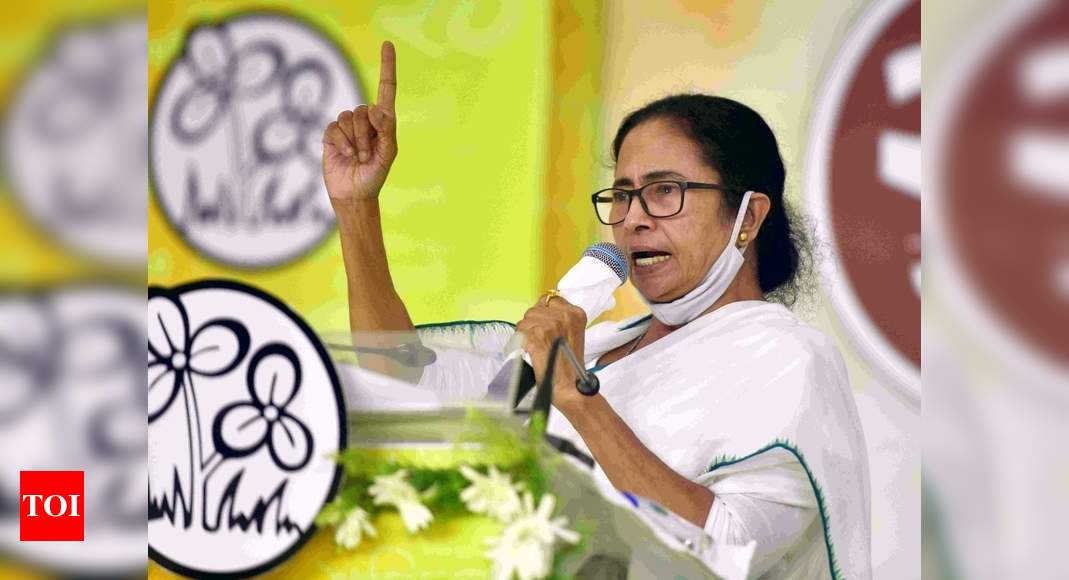 NEW DELHI: West Bengal chief minister and
Trinamool Congress
chief Mamata Banerjee on Wednesday reached out to audiences beyond the state through a virtual address since she defeated BJP in the battle for Bengal.
Leaders of opposition parties attended the screening of her speech at the
Constitution Club
in here, where she virtually made an appointment to meet the opposition leaders next week when she plans to be in Delhi, for the first time after winning a third term in office.
NCP chief Sharad Pawar and his daughter and party MP Supriya Sule, senior
Congress
leaders P Chidambaram and Digvijay Singh,
Samajwadi Party
MPs Jaya Bacchan and Ramgopal Yadav, DMK MP Thiruchi Siva, AAP MP Sanjay Singh, RJD's Manoj Jha, Keshav Rao (
TRS
) and others among the
TMC
MPs present at the programme, where Banerjee appealed all opposition parties to join hands to defeat BJP in the 2024 Lok Sabha elections.
"2024 is two and half years away but let us start working together before it gets too late… we can defeat them," she said, assuring them that she will only "play her part" in the efforts, implying that she will not be vying for the top post in any new formation. She said whenever the pandemic situation is improved she will host a rally of all opposition leaders in Kolkata.
While none of the leaders who had showed up at the event to express solidarity with the TMC chief, spoke at the programme and confined themselves to offering floral tribute to the martyrs of July 21, 1993, who were killed in police firing in Kolkata during a protest rally by the Congress youth wing which was then led by Banerjee, most of them are likely to meet Banerjee here next week.
Since the TMC was formed in 1998, Martyr's Day is commemorated as the biggest annual political rally by the party in Bengal. This year, the TMC chief decided on turning it into a call for a national agenda.
"Riding on the back of Trinamool's massive win in the recent assembly elections, the message to all non-BJP parties is clear; we must all work in unison – 2024 beckons," TMC leader in Rajya Sabha Derek O' Brien told TOI after the speech.
Thus Banerjee spoke partly in Hindi and English, alongside speaking in Bangla, to ensure that her message against the Narendra Modi-led BJP regime was conveyed to people and leaders in other states.
Giant screens were put up across Gujarat, Uttar Pradesh, Assam, Tripura, Delhi and Tamil Nadu to beam the TMC chief's virtual address on Wednesday.